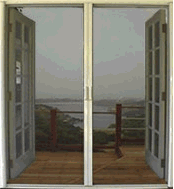 The beautiful Arizona weather is here and we have the best way for you to enjoy it while you're inside your home.
It's there when you need, gone when you don't. Let the cool breeze in while keeping the flying critters out. All you need is a Clearview Retractable Screen Door. AAA Sun Control is an authorized Arizona dealer with professional sales and installation of these quality screens.
ClearView Retractable Screen Doors will fit almost any household doorway. Inswinging or outswinging single doorways, double French doorways or sliding patio doorways can easily be fit to provide the perfect contemporary look you are sure to enjoy. All doors can be modified for either left or right side entry.
Clearview is the screen that doesn't snap back. Patented safe-glide speed reducer technology ensures a soft, smooth retraction every time, not sharp and snapping like other brand. No one else can offer this exclusive advanced technology and it comes as a standard feature.
The housing, pull bar, sill adaptors and rails are made from extruded aluminum. We offer commercial-grade powder-coating in 11 popular colors. It is the highest quality powder-coat available. The ergonomic nylon handles will not deteriorate like plastic and are cool to the touch. Handles match the powder-coat colors too.
The screen housing completely encases the screen roll unlike other brands that provide only a U-channel over the screen roll. This helps protect against debris collection that can clog the unit.
Sealed internal silicone-filled cylinder for retracting, with no gears that can wear out which can affect the unit's ease of use. All units are custom made specifically for each doorway.
There's a limited lifetime manufacturer's warranty on the mechanics of the unit, including the safe-glide speed reducer (screen excluded).