What Are the Benefits of Installing Rain Gutters on a House in the Phoenix Area?
1. People Stay Dryer
Gutters prevent water from flowing off the roof and over entrances to the home and porch. They keep people dry as they enter and leave the home. Even a light rainfall can create a sheet of water that runs off the edge of the roof.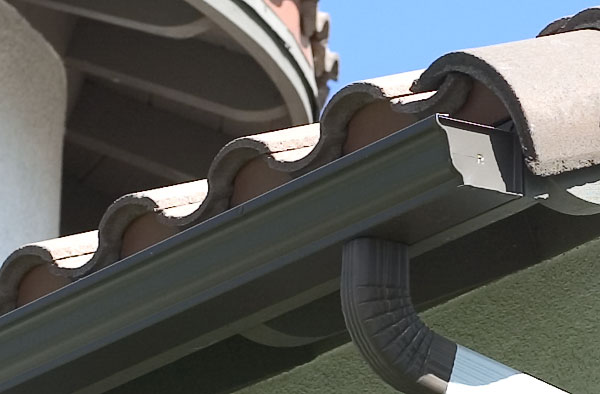 2. Houses Stay Neater
Water falling from the edge of a roof can splash dirt on the lower part of the exterior walls as it strikes the ground. It can harm flowers and delicate shrubs and break down mulch.
3. Gutters Prevent Rot
Houses without gutters are more likely to experience wood rot on the fascia and soffit as water exiting the roof finds openings in the paint and caulking. Properly installed and maintained gutters keep water away from wood and funnel it to the ground or storm water system.
4. Gutters Prevent Erosion
Water that falls uncontrolled from a rooftop has to go somewhere. In a heavy rain, a high volume of water flowing away from the house can erode the dirt around it. This can cause ponding in the yard, which can lead to muddy soil and damaged grass.
5. Keep Basements Dry
The most important task of a gutter is to funnel water away from basement walls. Water that falls from a roof can saturate the ground near the foundation. Over time, the water will find its way down and through the foundation walls due to hydrostatic pressure. The result is cracks in basement walls and eventually flooding in the basement. Even without cracks, sitting water can soak through the basement wall and result in a buckled foundation and costly repairs.
6. Keep Foundations Stable
Water sitting near a foundation wall eventually works its way under the foundation, causing it to settle. The walls on the settled part of the foundation can then separate from the rest of the house.