Retractable Screen Doors
ClearView™…the door that doesn't SNAP back
ClearView™…the door that doesn't SNAP back.
AAA Sun Control is proud to be an authorized Arizona dealer for ClearView™ Retractable Screen Systems™.  We offer professional sales and installation of these quality screens.  Let the cool breezes in while keeping the flying critters out.  ClearView™ Retractable Screens are there when you need them…gone when you don't.
ClearView Retractable Screen Doors will fit almost any household doorway.  Inswinging or outswinging single doorways, double French doorways, or sliding patio doorways can easily be fit to provide the perfect contemporary look you are sure to enjoy.  All doors can be modified for either left or right side entry.
What's Included?
ClearView's™ exclusive, patented Safe-Glide Speed Reducer ensures a soft, smooth retracting motion, not sharp & snapping like other brands, and sets ClearView™ a step above the rest.
Quality extruded aluminum parts are powder-coated, not just baked-on enamel, with 11 popular colors to choose from.
Screen housing completely encases the screen roll unlike other brands that provide only a U-channel over the screen roll.  This helps protect against debris collection that can clog the unit.
Ergonomic, color-matching nylon handles won't deteriorate like plastic does.
Sealed internal silicone-filled cylinder for retracting. There are no gears that can wear out which can affect the unit's ease of use.
All units are custom made specifically for each doorway.
Limited Lifetime Manufacturer's Warranty on the mechanics of the unit…including the Safe-Glide Speed Reducer (screen excluded)
The video below is a demonstration and testimonial from a satisfied ClearView customer.
Color Options
Standard commercial-grade powder-coat color options for ClearView screen doors units & matching nylon parts include*:

If your door frame has a natural wood grain finish, ClearView™ has the perfect solution. Instead of using a veneer that can peel over time, ClearView™ utilizes a unique wood grain powder-coat technique to provide the look of real wood.  That's right…powder-coat! Additional custom colors available upon request. *Since computer systems and browsers depict colors differently, the colors provided here will only be approximations. True color swatches will be shown at the time of the detailed measurements.
Screen Mesh Options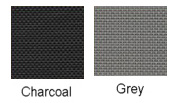 * Double Door Sets Consist of Two (2) Doors
** Openings Greater Than 48″ Wide Must Use Two Units
If your door size is not listed, AAA Sun Control can make custom-built housings and frames for any dimension.
Quality Components
Our trained professionals will obtain detailed measurements of your doorways.  Manufactured and made in the USA, your ClearView™ units are custom cut and individually hand-assembled to your exact specifications at our manufacturing facility in San Jose, CA. Once complete, our ClearView™-certified installers will ensure proper and professional installation providing you with years of trouble-free use.
As an industry leader, ClearView™ offers you the most innovative and best-designed product on the market.
We're confident you will CLEARLY see the difference.
Retractable Screen
The screen retracts smoothly back into its housing… conveniently stored & protected when not in use.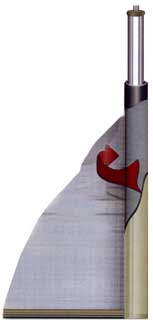 Durable Nylon Components
Our durable nylon components are heat resistant and color matched to your door color choice.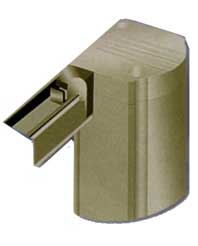 Ergonomic Handles
Ergonomic handles are designed to provide a sure grip and ensure ease of deployment and retraction of your new screen.

Safe Glide Speed Reducer
Patented Safe Glide Speed Reducer mechanism means the door will not snap shut. This protects fingers and avoids the unpleasant noise of slamming doors.

Photo Gallery
Click thumbnails to see a larger version.
Please note that retractable screen systems are not designed or intended to provide security for, or retain persons, animals or objects either in or out of your home.